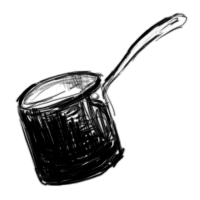 "Ya, well... I also cook."
When I'm not cooking, I'm paying the bills by doing contract work for various and sundry internet companies. So when I got it into my head to do the first version of the cookbook initially as a website, I figured what the hell, I'd write it myself. It can't be that hard...
It's amazing what PHP, MySQL, and Photoshop with a Wacom tablet can do. But enough already - get cooking!