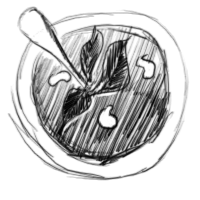 Jim Bowie's Chilled Strawberry Soup
Jim Bowie is one of my best friends, and one of the guys who I worked with for many years in the kitchen. One incredibly hot summer day he decided to have the soup du jour be chilled strawberry soup - this is my twist on it.
For
4
Ingredients
2 Cups Fresh Strawberries (sliced)
Juice from 1 Lemon
4 Cloves
1 Sprig Fresh Marjoram (or 1 t dry marjoram)
1 Cup Water
¼ Cup Sugar
1 Cup Dry Red Wine (chianti works well)
½ Cup Yogurt or Sour Cream
Mint Leaves (for garnish)
Directions
Combine your strawberries, lemon juice, cloves, marjoram, and water in a stock pot and simmer for approximately 10 minutes over medium to medium high heat. Once that's done, pour through a strainer, and return to the pot.

Stir in your sugar and wine, and bring to a boil. As it hits a boil, reduce the heat and allow to simmer for 5 minutes. Remove it from the heat, and set it aside to cool. I tend to let it cool on the stove top for around 45 minutes, then transfer it to the fridge for another couple of hours.

Once the soup is nice and chilled, fold in your yougurt or sour cream, and serve in bowls. Drop a few mint leaves on top for garnish.

Enjoy!
Good Prepping & Dining Music