Put a medium sized bowl into the freezer to get it good and cold.

Squeeze your limes, lemons, and mandarin orange to get the juice, and stir it together. Pour half of the juice into a sauce pan (or small stock pot), and add your 1¼ cup of water and ¾ cup of sugar, whisk it all together, and set the flame to medium. When the mixture starts to reach a boil, reduce the heat to medium-low and allow to simmer for about 10 to 15 minutes (so it starts to get a little syrupy). You'll want to be sure to continue to whisk it occasionally.

While that's going on, put your raspberries and blackberries into a small bowl, and using a masher or a pestle, mush up the berries to break them up and release the juices.

Once your juice and water and sugar mixture has simmered for 10 - 15 minutes, kill the heat and allow it to cool for around 15 minutes. After it's cooled, add in your mashed raspberries and blackberries, and the remainder of your lime, lemon, and mandarin orange juice, and whisk it all together.

Pour all of this into the bowl you've had chilling in the freezer, and put the bowl back into the freezer. After an hour, give it a quick stir with the whisk so that ice crystals don't form - you want it to become iced, but you don't want ice crystals.

You'll want to keep this in the freezer for at least 4 hours, giving it a quick stir about every hour.

When you're ready to serve, slice your lime into thin slices, and lay 3 slices into 4 bowls. Then, using an ice cream scoop, put 2 scoops of your iced blackberries and raspberries on top of the lime slices. Then put 3 raspberries on top, and drizzle a little of the juices in the bowl around the edges of the lime slices.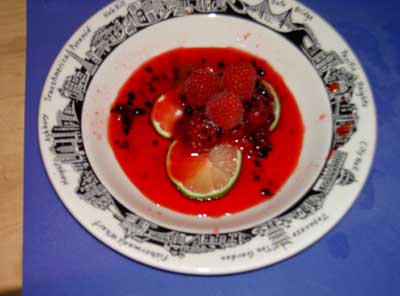 Enjoy!