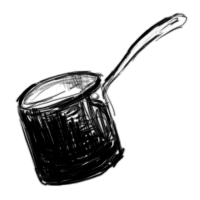 Chicken Stock
I ususally save the bones from a 5 # roasting chicken once it's been cooked, and make a stock up the next day.
Ingredients
Bones from 1 5# Roasted Chicken
1 Onion (skin on, quartered)
8 Cloves of Garlic (skin on, halved)
4 Sprigs Rosemary
5 Sprigs Thyme
Red Pepper Flakes
7 Dashes Crystal Hot Sauce
Salt
1 T Black Pepper Corns
Water
Directions
Once you've gotten most of the meat off of the chicken bones, put them all into a large stock pot. I usually leave a little of the meat on the bones, as well as the skin, as that adds to the flavor. Then toss in all the other ingredients - you don't need to peel the skin off the onions or garlic, nor do you need to remove the rosemary or thyme from their stalks - you're going to be boiling this for an hour or so, and that will get all of the flavor out of them.

Pour cold water over the bones and other ingredients until everything is covered with water. Put the pot over a medium-high heat, and when it hits a boil, turn the heat down to allow it to simmer for an hour to an hour and a half. You'll want to stir it every now and again.

After an hour or so of simmering, turn off the heat. Set a colander over another stock pot, and carefully strain the pot with the bones and liquid into the empty stock pot, making sure not to burn yourself.

I ususally get about 3 quarts of stock when I use the bones from a 5 # chicken and my 8 quart stock pot to make the stock.