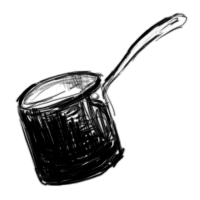 Shrimp Stock
There's no excuse not to make a shrimp stock if you're peeling and deveing shrimp - just toss the shells into a pot, and you're well on your way.
Ingredients
Shells from at least 1 # Peeled and Deveined Shrimp
1 Onion (skin on, quartered)
8 Cloves Garlic (skin on, halved)
8 Dashes Crystal Hot Sauce
1 T Whole Black Pepper Corns
4 Sprigs Rosemary
5 Sprigs Thyme
Red Pepper Flakes
Salt
Water
Added Bonus: if you have crab shells, add those to the pot as well
Directions
Put all of your ingredients into a medium stock pot (I use a 6 quart stock pot), and fill ½ of the way or so with cold water. Set that over a medium-high flame, and when it starts to boil, reduce the heat and allow to simmer for about an hour or so, stirring every now and again.

When your hour or so has passed, set a colander over another stock pot, and carefully strain the pot with the shells and liquid into the empty stock pot, making sure you don't burn yourself.

Typically I get around 4 or 5 cups of shrimp stock out of this.