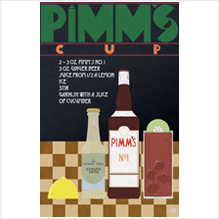 Pimm's Cup
Summertime. The perfect drink for summertime is a Pimm's Cup - wildly underrated, and woefully so. A couple of these as the afternoon wanes and your dinner prep is underway could be one of the best things in the world. As easy to make for one as for a crowd, always in my arsenal when entertaining in the summer.
Ingredients
2 - 3 oz. Pimm's No. 1
3 oz. Ginger Beer (Fever-Tree, Fentimans, or Reed's Extra)
Juice from 1/2 a Lemon
Ice
Slice of Cucumber

Directions
Add a few ice cubes to a highball glass, and pour in your Pimm's. Squeeze in your lemon juice, and add the ginger beer. Stir. Garnish with a slice of cucumber (either perched on the rim, or doused in the drink). Enjoy.
Good Prepping & Dining Music